Every year since we're on a moving ice sheet, the Geographic South Pole Marker is moved to it's new correct position at the actual geographic south pole. There'a big ceremony, in which the American Flag is passed around the station staff to its new location, and the new marker is unveiled. My writeup of the whole ceremony was recently published in the NSF's Antarctic Sun, along with a few photos. Read the article on the Antarctic Sun: Return to tradition – 2013 geographic South Pole marker sports classic style (PDF)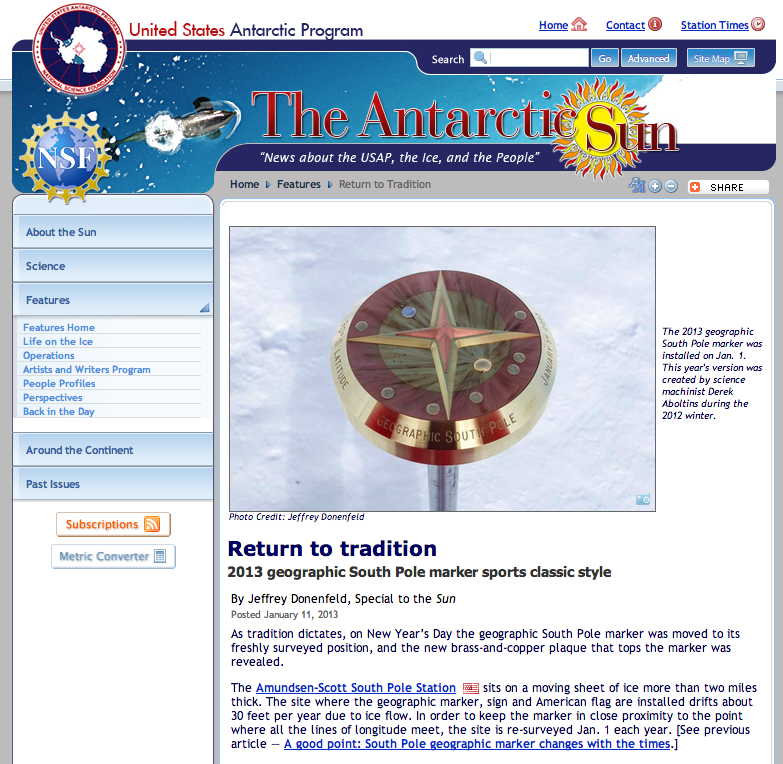 Excerpt…
As tradition dictates, on New Year's Day the geographic South Pole marker was moved to its freshly surveyed position, and the new brass-and-copper plaque that tops the marker was revealed.

The Amundsen-Scott South Pole Station sits on a moving sheet of ice more than two miles thick. The site where the geographic marker, sign and American flag are installed drifts about 30 feet per year due to ice flow. In order to keep the marker in close proximity to the point where all the lines of longitude meet, the site is re-surveyed Jan. 1 each year. [See previous article — A good point: South Pole geographic marker changes with the times.]

The entire South Pole Station staff gathered outside between the old and new pole locations this year and formed a semicircle. Each person helped pass the American flag from its drifted location to the new location just beside the 90 degrees South marker.
A few pics of the marker and ceremony:
Also published at:
Earthsky: "New South Pole marker gives Pluto and Armstrong a shout out"
Universe Today: New South Pole Marker Honors Planets, Pluto, and Armstrong